Nom Nom Galaxy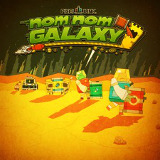 Cost
$14.99 / £11.49
Format
Digital
Size
439.9 MB
Available On
PS4 [Reviewed]
Release Date
5/12/15 (NA) / 5/13/15 (EU)
Developer
Double Eleven
Publisher
Q-Games
Modes
Single Player & Co-op
Double Eleven bring to you the latest installment of the pixel junk series, Nom Nom Galaxy. The cutesy graphics and playful nature so familiar in their previous games returns with new features thrown into the mix.
You play Astro Worker, an employee of SoupCo a galactic company tasked with making and sending the best tasting soup all around the galaxy. Your boss Robo-Shaco tasks you with looking for various ingredients that will please any and all of their hungry customers.
At the start-up menu you have various options but the core of the game consists of 3 modes. Corporate Conquest which is primarily the single player mode but also allows other players join you in building the best soup factory there is. Another mode similar in nature to co-op is S.O.O.P which allows you and another player to play a previously completed planet but without any regulations or restrictions. Finally Challenge mode which rotates on a 2 day (48 hour) clock where you can compete for the best scores in race, combat, sales and split screen co-op.
So lets break down the modes. Corporate Conquest is where you will spend the majority of your time. You start off in Soupcon Valley which at the start has 5 worlds. Selling and/or completing said worlds opens the gravlock which allows you access to another galaxy with more worlds to explore and mix new soups. The main aim is simple; reach 100% sales against a rival soup maker. As you send soup so does this rival and whoever reaches max sales first wins. If you are doing well the rival will send employees to put a stop to your success and ultimately your game if given the chance. To start a factory you must build an office. Without this the factory doesn't run and this is what must be protected. Luckily you can purchase turrets and eventually robot security to fend off such attacks.
The co-op I managed to test myself which I can confirm is not a PVP style but fully team based, Clicking the quick join option I was put into a game already in progess, another player had built some of his factory already. While it was fun and added more to the mode knowing you had human help rather than the AI this experience was riddled with input lag, button commands following through onscreen 1-2 seconds after. Additionally there were some long pauses in this mode where the game looked like it had crashed only for it to continue after. Hopefully this will improve once the game is fully released.
Lastly challenge mode, as stated there is a constant refresh of said challenges every 2 days. In this time you can compete for medals in 4 different categories, after which the game will rank you on either bronze, silver, gold and elite. When the challenge expires and you go back into this mode you will be rewarded. I managed to get 2 elite entries on my first attempt and received a choice of 6 boxes to chose 5 prizes from. These were gums that act as temporary powerups to be used in Corporate Conquest.
Trophy wise nothing looks too difficult, time consuming maybe. Culinary Arts Award requires you to unlock all astro pins and while these are simple enough ranging from tasks like harvesting certain ingredients there are 75 pins which will take a while. Luckily the game has a lot of planets for you to try and get 100% market success on so ample opportunity to work on this. The game also allows you to check which pins you have and your progress toward the next.
Summary –
A game with elements such as side scrolling, resource management and tower defense seemed a bit daunting at first along with the many different factory machinery options but after playing the 2 tutorial levels and diving right into the main campaign you quickly realise these all fit perfectly with each other and how best to manage each different world and how you can be successful on it. The addictive nature of trying to make a better factory on the next planet had me hooked and eager to see what the next one brought.
PROS:
1) Great visuals
2) Funky soundtrack
3) Multiple game styles mixed into one
CONS:
1) A lot to take in
2) No Vita version
3) 2 controllers required for couch co-op