Achievements on Android! It's only 50gs but it's a start!
You must be in the round from the start for any achievements to count.
Swipe those tiles – 5gs – Completed 10 rounds
Sore fingers – 5gs – Completed 100 rounds
Play 10 and then 100 rounds start to finish. This is tracked on the Rank & Stats page under Full games completed.
Spin Cycle – 5gs – You used rotate to find more words
There is a spin icon on the screen during the puzzle. This rotates the letters 90 degrees to give you a new perspective. The letters stay the same. Simply get 1 word after spinning.
Beat your Frenemies – 5gs – You beat all your Frenemies in a round
Really tank a puzzle getting only 1 or 3 words. Then at the leaderboard screen you want click some names of people who did just as bad as you. Then play a good round and beat all those horrible players for the achievement.
Multilingual – 5gs – You've played Wordament in more than 1 language
In the main menu scroll right to Help & Options. Change Puzzle language to a different language and then play a full round from start to finish.
CH a CH IN g – 5gs – You found a digram word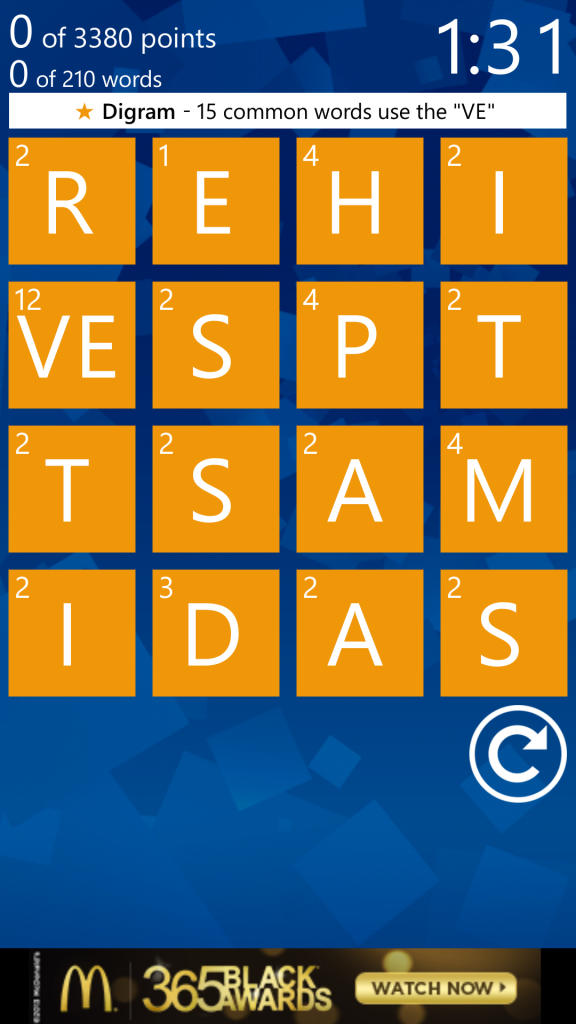 The puzzle will say Digram in the title. Then find 1 word that used the letters. The Digram is the one with multiple letters in a single square.
Theme word – 5gs – You found a theme word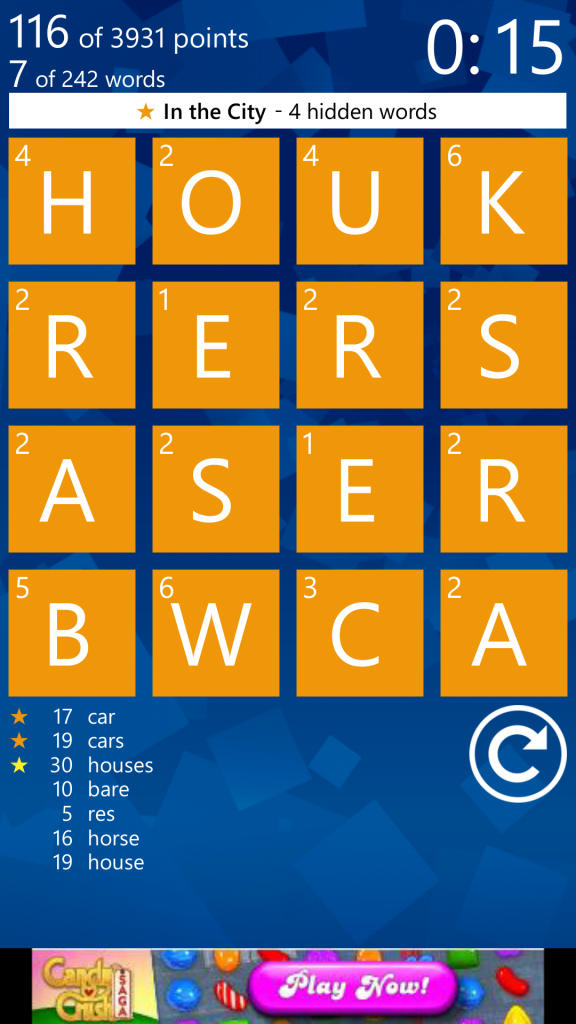 Some of the puzzles have themes. This will be noted in the description. Find 1 word that matches the theme to get the achieve. You do NOT need to find them all.
Better than half – 5gs – You placed better than 50% of the players in a round
SOLVER HERE. Note they will ban people from the leaderboards for cheating. So I suggest you do this ONCE to get the achievement and then play normally.
Autobiographical – 5gs – Found the longest possible word in a round
SOLVER HERE. Then sort by length and enter the longest word to unlock.
Sweet sixteen – 5gs – You played a game where you used all 16 tiles to make words
You just have to make words that use all 16 squares. Was glitchy for me but eventually unlocked.